Welcome
Gambatesa mines was the largest deposit of manganese in Europe and active mine until 2011, when the company owner of the concession has relinquished the latter citing reasons of antieconomicità. Gambatesa was the first example on the national territory of active mine accessible to the public and its Museum is at the end of years ' 90; the two activities have continued in parallel for nearly 15 years under the miners ' scheme for which, by virtue of the R.D. 1443/1927, the entrance visitors are authorized by the Director under their own responsibility. Cancelled the mining concession, the new legal framework did not permit the use of abandoned mining sites and this forced the owner of the site, Park Authority Aveto, to interrupt access to the underground.
In April 2014 was presented a draft regional law (pdl 334/2014) aims to fill this legal vacuum, a proposal that prompted the regional government to enact L.R. 31/2014 which represents today the legislative instrument that makes such sites to the public, while a series of fulfilments; the mines of Gambatesa, after nearly two years of retrofit was finally (re) opened on 9 December 2016.
The mine of Gambatesa, in his movable and immovable property, was elected to the State's cultural heritage and this allowed to go by way of derogation from some interventions and to maintain the peculiarities and original features of the site: the visitor who now decides to visit the mining museum has the opportunity to go into the mine with the original miners ' train aboard the ore wagons suitably modified for transporting visitors and explore on foot, accompanied by specially trained guides, the tunnels of the mine in their original appearance; an environment so moist, with oozing spread that meanders along dirt paths and along the railway headquarters, just lit up.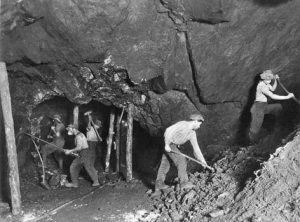 The Museum is the mountain itself, with its world, true monument to the work and the sacrifice of hundreds of miners who have laboriously reclaimed from the womb of mother earth one of his most valuable fruits: an army of heroes whose deeds are narrated by galleries, from watering holes, from wooden armatures, by wagons and mechanical diggers "frozen" on their last day of work. A real photograph of yore.
Each meter of the gallery are working days, every drop of water on the head that reminds us of the difficult working conditions, the little light that evokes the setting at times disturbing but mostly charming and intimate in which the miner spoke to the mountain, he watched her, she read.
This is the choice and the bet: do not restart the time it stopped, keep the clock hands nailed to the last day of checkout because only in this way the mountain can tell his story. A small train uncomfortable and noisy, a damp and poorly lit.
A mine.
For more information:
Tel.: 0185-338876