History
The Gambatesa mine history began in 1876 when a research permit was accorded to a french engineer named August Fages which at that time was exploring the eastern Liguria outcrops, particularly focused on graveglia valley cherts, looking for manganese mineral used in the siderurgy to produce high quality steel.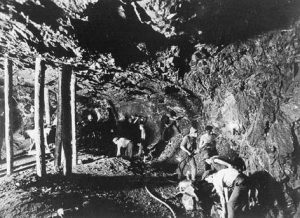 The first official act belongs to 1878, august 29th, when the Agricolture, Industry and Commerce Minister declared the discovery of a manganese deposit in Graveglia valley that was named "Gambatesa" and accorded the concession for its exploitation to the discoverer, engineer Fages. Within few years Gambatesa became a well structured mine with an activity counting up to 15 miners and 25 women in charge for ore manual sorting and selection; the manganese ore, mainly represented by its oxyde Braunite, in Gambatesa mine reaches a pure metal content up to 45-50%, one of the reachest manganese ore worldwide.
The mining activity increase was not followed by a corresponding upgrade of the road network thus making extremely slow and difficult the mineral transportation, still achieved using horses till the coast where it was then loaded on board at Sestri Levante port and shipped to destination: this affected the mine productivity till 1901 when it was realized the road connecting Frisolino to Conscenti, in the valley bottom.
In 1902 engineer Fages passed away and the mining concession was taken over by the heirs who hold it till 1918 when it was transferred to the Società Ferriere di Voltri company.
During the fascist regime the mine was nationalized. During the second world war the mining activity was carried on under the nazi control and the direction of SS lieutenant Franz Frank. In that period the mining activity slowed down significantly, mainly due to miners shortage.
In 1940 the concession was transferred again, to the Società Anonima Siderurgica "Ferromin" company that introduced many innovations among which, the most important one, the wet drilling: by introducing the use of water in the rock perforation the wet drilling technique allowed the rock dust reduction thus solving the age-old issue of respiratory disease and silicosis.
After almost 30 years, Italsider company took over on the mine direction and started changing the mining technique by introducing many improvements among which the roof bolting. A very short time passed since then, when Italsider started considering to return the concession for deposit depletion, renunciation that was finally presented in 1973: the cost of Gambatesa mineral was not competitive anymore with the one mined in other countries, especially in South Africa.
The concession was then requested by and accorded to Sil.Ma. S.r.l. in 1976, a company founded by geom. G.Vercellotti. The mining activity was carried on also in nearby mines such as Monte Bossea, Molinello and Cassagna and employed few miners, reaching 16 units in 1985.
At the end of the 90s, Eng.