Visit
***PER IL MESE DI NOVEMBRE LE VISITE SONO POSSIBILI SOLO LA DOMENICA***

(RIAPERTURA SABATO E DOMENICA A PARTIRE DAL 2 DICEMBRE)
THE VISIT
*** RESERVATION REQUIRED ***
The mine is proposed to visitors in its original condition, allowing safe access to the undergrounds while maintaining its unique characteristics.
Tour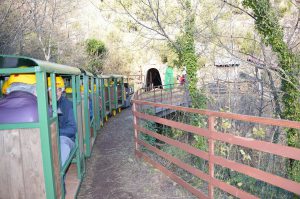 consists in entrance into the mine with the mining convey, made up the mining cars modified to allow the transport of passengers and then a walking path along the main tunnel: the ground might be slightly muddy and develops along the rail network and the lighting is kept minimal but enough to move safely in mine; the temperature inside is steady on 13-15° C and the environment is very humid. Because of these characteristics it is recommended appropriate clothing and comfortable shoes (due to high humidity and the peculiarities of the hypogean environment there might be present some small puddles).
HOURS AND RATES
The Gambatesa Mining Museum is open from 1st October to 31st March only on weekends and holidays, from 10:00 onwards, with visiting hours indicative at 11:00, 14:00 and 15:30.
From 1 April to 30 September the site is open Wednesday through Sunday from 10 onwards with visiting hours indicative at 11:00, 14:00 and 15:30.
July and August is open daily.
OPEN ALL YEAR FOR GROUPS (ON RESERVATION)
(In case of affluence additional tours will be allowed with departures from 10:00 and last train at 16:30)
*** RESERVATION REQUIRED ***
Prices
Adults: € 11.00
Children 3-12 years: € 8.00
Over 65 and disabled: € 10.00
Military and students: € 10.00
Family 3 (2 adults 1 child): € 27.00
Family 4 (2 adults 2 children): € 32.00
Groups (min. 20 persons):

Weekends and holidays: € 9.00
Weekdays € 8.00
SCHOOL VISITS
8,00 € / student, teachers free
for info:
info@minieradigambatesa.com
For reservation:
Tel.: 0185-338876

Alternatively, please contact the following numbers:
Cell.: 388-3084752
Download Guide to the visit and excursions:

---

Scientific management and guided tours are entrusted to the cultural association "I Nuovi Gàruli" located in the municipality of Ne.